JstChillin, 2009-2011
READ/WRITE
(exhibition 3)
March 17- March 30, 2011
What Have We Done from Nicholas O'Brien on Vimeo.
"
"The Web as I envisioned it, we have not seen it yet. The future is still so much bigger than the past."
Tim Berners-Lee
On March 17th, 2011, 319 Scholes in Brooklyn, New York will present the final project from JstChillin.org. Thirty-five artists will participate in the show, all of whom have been featured on JstChillin.org, and most of whom will be in person on opening night. Read/Write attempts to capture and translate the spirit of a year and a half long online exhibition dating October 2009 - February 2011. The exhibition will run from March 17th - March 30, 2011.
"This technology was meant to expand human communication, but you're not even human any more! What you've become terrifies me. You're a freak!"
Dr. Angelo in The Lawnmower Man (1992)
Participating artists include Brad Troemel and Lauren Christiansen, Nick De Marco, Math Wrath, Hanna Terese Nilsson and Rasmus Svensson, Ryan Barone, Ben Schumacher, Zach Shipko, Artie Vierkant, Martin Kohout, Anne de Vries, Ivan Gaytan, Eilis McDonald, Tabor Robak, Bailey Salisbury, Simmons & Burke, Mitch Trale, Eugene Kotlyarenko, Jonathan Vingiano, Jon Rafman, Jacob Broms Engblom and Ryder Ripps, Guthrie Lonergan, Ida Lehtonen, Ben Vickers, Duncan Malashock, Tolga Taluy, Melissa Sachs and Cameron Soren, Daniel Leyva, Chris Coy and Rafael Rozendaal.
A live feed of the space will be available for live streaming during opening night.
For documentation of READ/WRITE please click HERE.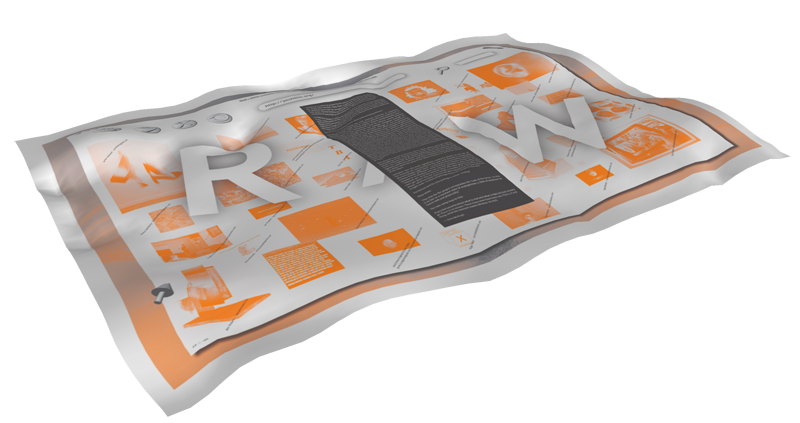 "READ/WRITE" double sided poster designed by Hanna Terese Nilsson & Rasmus Svensson
includes text by Ceci Moss, Brian Droitcour, and Gene McHugh
Avatar 4D
(exhibition 2)
April 17, 2010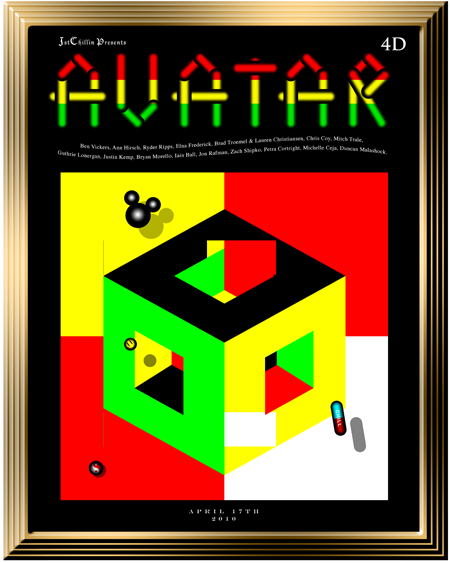 NOMA Gallery is pleased to present Avatar 4D, a performance event curated by JstChillin and the first event in the n o m a i n b e t w e e n series. In the words of the JstChillin creators (Caitlin Denny and Parker Ito): "Avatar 4D brings a night of embodied logarithms and viral glancing. We have asked seventeen artists whose work is concerned with the internet to perform in the space all at the same time. Through curatorial synesthesia, the performances will be set up as chaotically choreographed circumstances that exist in a reality of virtual proportions, modifying their skins in a post human culture of "I".
The nostalgic net romanticism of the nineteen nineties is a crisis passed - promises of a future society of cyborgs have swelled and vanished. Utopian metamorphosis through the digital screen is best left for Cameron's Avatar 3D. A fold in our digital condition has occurred, not unlike the fold of the human body, a naïve comfort in the inner workings of a complex machine. Dependence on the functions and malfunctions of the computer leave us at once at the whim of an unknown force and completely in control of our tactile environment. Embodiment no longer coincides with the limits of flesh; disembodiment initially experienced on the internet opens the possibility for collective re-embodiment through new technologies.
Artists in Avatar 4D are reality hackers, experimenting with the theoretical apparatus of struggle. The tensions that arise in finding one's body without organs, is between the ever changing modes of the net as much as the change in the self. The narcissistic focus found in many of the artists' works act as an instrument of distancing. Petra Cortright's work with high end webcams featuring herself and released on the internet speak to the idea that a gesture performed through the internet does not create an image of oneself, but an event of oneself. Ben Vickers (London) traces through his persons, his multiples, in a piece in which he recites the web address, username and password for every account and avatar he has ever represented. He forfeits all control to an unnamed audience who now have the ability to become him, to change him, to colonize his experience. The digital action signifies a movement, pulling the body beyond it's limits into a networked world of gestural relentlessness. These actions and the Avatar 4D event are models of new movement.
In addition to the live event held at NOMA Gallery, a simultaneous event of the same name will occur at Reference Gallery in Richmond, Virginia. The abstraction and compression of each work created for Avatar 4D will come to life at Reference Gallery, acting as not a simulation but a counterpart to the San Francisco show." Participating artists include Ann Hirsch, Ben Vickers, Brad Troemel & Lauren Christiansen, Bryan Morello, Chris Coy, Duncan Malashock, Elna Frederick, Guthrie Lonergan, Iain Ball, Jon Rafman, Justin Kemp, Michelle Ceja, Mitch Trale, Petra Cortright, Ryder Ripps, Zach Shipko. Prints and publications available by PWR Paper, Brenna Murphy, Ida Lehtonen and Lindsay Lawson & Stewart Uoo.
documentation here